Many years later…
These two photographs show my daughter and myself [Shyama Ruffell and Colin Ruffell] on a couple of occasions while exhibiting our art together.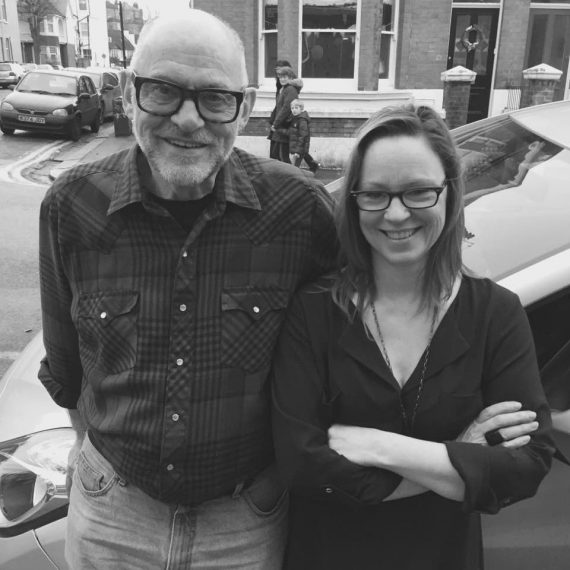 CR and SR Dec 2016
The first one was taken about 48 years before the second one. Exact date unknown, but probably 1968. Location Bayswater Road, London, on a Sunday, at the Open Air art-exhibition hanging our work for sale onto the railings outside Hyde Park.
I was a regular licensed exhibitor at Bayswater Road for several years, while Shyama was a fair weather occasional visitor only. Huh! Even so she could outsell me with her drawings and sketches every now and then, if I had a bad day.
The second one was taken on December 10th 2016 outside Shyama's house in Hove where we were showing our art together at her Artists Open House exhibition.
We have been doing the Artists Open House exhibitions for nearly 30 years. For most of that time we showed in my Brighton home before we swapped and now we use Shyama's Hove address twice every year. Our homes are just about 1 mile apart.
The person missing from both photos is Fran Slade. She is also an artist, my wife, and Shyama's mother. She wasn't at Bayswater Road on the first occasion because she would have been back home looking after our younger boy-child and the pet dogs. So we took the second photo to match the first, even though Fran has been a constant third family artist exhibitor throughout.
Nowadays Shyama and I continue to exhibit in London on a regular basis. We are both members of an Artist's Collective Gallery on the Thames Southbank. The gallery is called Skylark Gallery 1 in Gabriel's Wharf next to the Oxo Tower. The gallery location is about half way between the London Eye and the Tate Modern.
I am looking forward to the next 48 years and a further progress report and photo.
Previous blog about Bayswater Road Exhibition click here.
Previous blog about Artists Open Houses click here.
Previous blog about Skylark galleries click here.