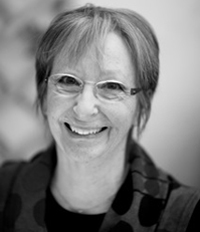 F
ran Slade paints pictures which harness mystical symbolism, and fantasy. She is fully trained, yet she paints as a naïve. Her work looks simple, but it provokes complex sub-conscious feeling. She cannot explain her imagery, it comes from deep within.
Fran Slade thinks in pictures. As a schoolgirl her painting was chosen to tour Europe as part of a exhibition of British art. Her versatility enabled her to design clothes in the swinging sixties for Carnaby Street, London. She has created inspired home interiors, painted murals, made children's toys, illustrated books, published prints, and designed greetings cards.
Fran studied fine art at Hornsey College of Art in London where she met and married Colin Ruffell . Fran and Colin set up Spectrum Studios in Bedford and Buckingham Fine Art Limited.
She co-founded Brighton Artists Workshop and has been part of Fiveways Artists Group in Brighton International Art Festival since 1990.
Fran is a gardener. She has created a series of well-loved, fully-stocked, varied and beautiful gardens during the several moves from house to house where she and her family have lived. Her garden has drawn crowds when it opened to the paying public as part of 'Garden Gadabout' in aid of a local hospice The Sussex Beacon. Her garden has featured on TV and is a magnet that draws visitors to her Artists Open House year after year.
The current garden is a profusion of plant variety, colour, texture and scent. It is alive with the sound of birds and insects. Fran is an organic enthusiast, and keen plants-woman. A small orchard of mature fruit trees and a vegetable garden provide a haven for foxes hedgehogs slowworms and other small mammals. The garden is occasionally featured in her paintings.
The noted Swedish critic TORD BAECKSTROM reviewed her work noting that, '… she has got a faint touch of Marc Chagall, with something of the same amiable nuttiness in her visual ideas', and called her, ' … a fine colourist throughout, often with rather exquisite colourtunes (harmonies).
Exhibitions; Banbury Arts Festival Oxfordshire, 'Britains Best' Birmingham, 'New Discoveries' Seen Gallery London, Thames TV London, Steigenburgerhoff Frankfurt, Kehwa Amsterdam, Mobilair Dortmund, 'Sussex Open' Brighton, 'Tres Naivester' Galleri Fenix Gothenburg Sweden, 'Naive Art' Howard Street Galleries Perth Australia, 'Golfers' St Andrews and Gleneagles Scotland, Star Gallery Lewes Festival, ArtExpo New York, Dix et Sept Greenwich Village NY, Artists Open Houses Brighton Festival.