GICLEE IS STILL THE BEST THING SINCE SLICED BREAD
I wrote a blog post about giclee printing a couple of years ago. It claimed that giclee is the best thing since sliced bread. That post is still very relevant. You can see the link at the bottom of this post.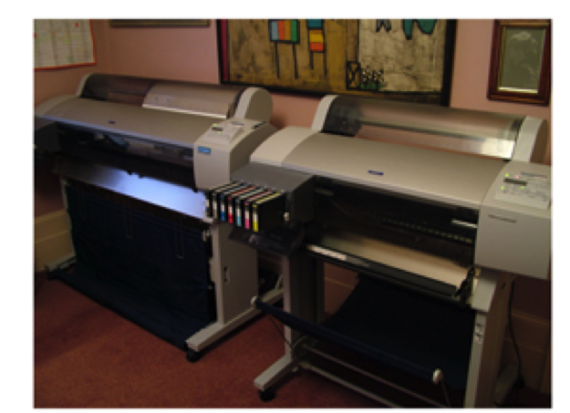 Epson 9600 and 7600 fine art printers
So what is it?
Giclee is really high-quality inkjet printing. Yes really high-quality, and yes it really is the best thing since sliced bread. For artists, art lovers, and art collectors that is. Maybe some old school publishers think it is not. And some traditional printmakers disagree as well. Hey ho. You can't win them all!
Of course it is actually just a way that artists make pictures. They are using computers and printing ink. So what is different?
Here are ten reasons why giclee is so good.
Highest quality lightfast inks
Prints on fine art paper or canvas
Size range from small to huge
Print on demand avoids waste
Self publishing gives control to artists
Computer power to create, store, and manipulate digital image
Variety of image input from photo, scans, or digital
Speed from home printing
New routes to market gives value for collectors
Provides images for the long tail.
Surely that is that enough?
But there is still a group of people who disagree. So let's go through these ten with a little more detail.
Highest quality lightfast inks on high quality art paper.
The Fine Art Trade Guild have tested examples of giclee inkjet printing and found that the lightfastness is superb. Giclee prints can last for decades. The crucial things are threefold. Right inkset, right paper or canvas, and right machine. Standards are available. Machine, ink, and paper providers can submit to the Guild for testing. The results can be verified by the Guild. But beware because of course there are prints using poor quality inks on flimsy paper. Some people have cottoned on and use the word 'giclee' to cover mass production inkjet prints.
Prints onto fine art paper or even canvas.
The inkjet fine-art print industry provides a range of rolls of highest quality coated fine-art paper so that it is receptive to the special pigmented inks in giclee printing. They also provide rolls of fine art canvas in a variety of textural finishes.
Size range from small to huge.
Giclee prints can be produced on a variety of machines. These range from specific small A3 printers right up to 60" wide machines that print using rolls of paper or canvas. The largest prints can therefore be 60" x 100" or even more. The smallest can be grouped and printed onto A4 paper. An artist can publish an image in a wide variety or sizes and offer the choice to their customer base.
Print on demand enables proofs and avoids waste and over production.
The printer works from a digital file controlled by a computer and it is quite practical to print proofs, followed by production prints, one item at a time. Print on demand means that artists or publishers can print exactly what is wanted without risk and cost of overproduction or need to keep stocks. This is different to the litho process where set up is complex and hundreds of prints are printed at once. Or 'original prints' like etching or silk-screen where the whole edition gets printed in one fell swoop.
Self publishing facility enables authority and control for artists.
Artists can use giclee print businesses that have the machines and who will print for artists. Or artists can invest in and buy their own printer machines. Sizes start from A3 and go up to large 44' wide printers enabling artists to control their own publishing business. This avoids the difficulty of artist being overwhelmed by publisher gatekeeper influence. And it means that there is much more choice in the print market.
Computer power to create, store, and manipulate digital image.
A giclee print machine works from a digital file sent from a computer down a wire. The digital file can be a PhotoShop file so it can be changed, enlarged, cropped, and much more. Computers enable a massive variety of digital output. This is quite different to the established printmaking techniques like etching, silk screen or linocuts.
Variety of image input from photo, scans, or digital.
Input into the digital file can be from a scan of an existing painting. Or a photograph or an image created digitally on the computer. Plus any combination of these. So artists can create new versions of previous images by scanning or photographing actual paintings and then developing the image in Photoshop.
Speed from home printing and self publishing.
Downloading a digital file to the printer is almost instant. An artist with his or her own machine can receive and order, and fulfill it straight away. Previously a publisher would take months to choose an image to include in their portfolio. Then further months to create stock and market their offer to the prospective buyer. The difference is staggering. The time taken from artwork to actual print can be minutes instead of months.
New routes to market gives value for collectors.
Art lovers can find out much more about an artists output. Print on demand drastically reduces start up costs. Self-publishing artists can use this cost reduction to offer direct sales at best value prices for collectors. The newly available giclee based product range is from original painting or artwork through prints on paper or canvas. Or even a hybrid combination in the form of acrylographs. These new products can be shown in the digital online market place accompanied by social media feedback.
Provides images for the long tail.
The old gatekeeper publisher control of the market was a result of high cost of printing and storing large quantities of stock. Plus the cost of their business to business marketing. So they concentrated on the best selling images. Whereas a self-publishing artist selling on the Internet can provide and attract a niche audience for product that is less popular. Art lovers get a much wider choice.
Conclusion.
Giclee means that more art is available for art lovers. It is better value. Plus it has more variety. Even better, it is very high quality. Artists can use these facts to help make a better living from their art.
Click here to see my previous blog post called;