This article was commissioned by Art and Framing Today magazine and published in a recent edition….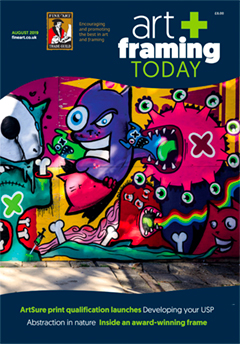 The value of collaboration for lonely artists.
It is often said that being an artist making art is a lonely occupation. I have said it myself because often we artists work alone, running a small one-person business. We create our art and then sell it on our own. There are very few proper jobs as an artist. However it is not as lonely as it might first appear.
There are more and more instances of artists sharing studio space. Art making loneliness can be improved in communal kitchens, shared reference libraries, and communal display areas. Buying art materials can be more efficient when purchased by a group. Access to secretarial services, accounts and book-keeping, can be a collective feature of group activity. Plus the interactive appraisal of individual art by fellow artists is extremely valuable.
However there can be even more inter-relationships further up and down the food chain. Vertical, and lateral expansion can provide ripe opportunities. This is where collaboration with others in the industry is so valuable.
Artists are able to reach back and teach art, sharing their art practice and collaborating with established organisations. They can also demonstrate their current art creativity in collaboration with dealers, retail and trade customers. The public love to watch artists paint, sculpt, throw pots, and much more. Artists will draw crowds in so that others can sell more variety of products.
Up the chain, after their own creativity, a professional artist can collaborate marketing and selling practice with agents, or other artists, into their daily work. It could be, sharing stands at exhibitions, sharing pop-up art shops, joining artist's open house trails, or using established Internet art galleries like Artfinder or Saatchi.
Lateral expansion to magnify an artist product range can really benefit by collaborative effort. Using professional printers to self-publish can expand the visual artists productivity and ensure quality. Licensing images to other publishers for use as prints, greeting cards, calendars, or fabric design for fashion and furnishing, are examples that involve collaboration with more professionals in different areas of the art industry.
Interior designers and suppliers of art for rental to the corporate market in offices and hotels offer even more opportunities for collaboration within the art-marketing world.
And of course artists can join and collaborate with art groups, societies, and organisations like our own Fine Art Trade Guild. This will take art creativity into the future, and benefit everyone.
Colin Ruffell  F.G.S.A.